For more ocean ideas, check out my friend Annie's
post
!
"Under the Sea"
The fifth theme I chose for my son was the ocean. Here are the activities we did throughout the week. You don't do them all in one day, you space them out so throughout the week you are talking about your theme here and there, a little at a time. This theme was SO FUN for me! Before I changed my major to speech and language pathology, I was a marine biology major. So doing OCEAN themed SPEECH/LANGUAGE activities is pretty much my favorite thing to do in the whole world!!
Field Trips:
1. Unfortunately we didn't have much money left in our budget to go to the
World Zoo and Aquarium
. Next time! If you can afford it, go to an aquarium and check out all there is to see there!
2. We did see some fish last week at Butterfly Wonderland, so here is a cute picture. We also got to pet sting rays there, so our fish experience just happened partially during bug week. We also checked out some local pet stores to see what kind of fish they had. That was fun and free :)
Activities:
1. We spent lots of time SWIMMING in the pool! We are blessed enough to have one in our backyard, but if you don't, it would be a fun week to go to the local rec center.
2. We played with these swimming fish A LOT this week. I got them at the $1 spot at Target. You wind them up and the swim, they are so fun! Pool or tub, they were very fun.
3. Have you ever seen these? We had "blue" baths this week, just like fish swim in the blue ocean!
4. We did play doh with sea creature cookie cutters. We love play doh!
5. We didn't play it, but Go Fish would be a great game. Also Let's Go Fishing!
6. We did different sensory bins- sand with shells (the same sand I used for the desert unit), blue water with sea creatures (food coloring), and sand dough with sand toys (mix 5 cups flour with 1 cup baby oil... seriously so much fun!)



Food:
Once again, look on Pinterest. We just did a few simple things!
1. Octopus Hotdog


2. Sand Dessert (vanilla or butterscotch pudding, with vanilla wafer crushed on top)

3. Jello Aquarium (blue jello with gummy sea creatures in it)



Songs:
Slippery Fish/The Octopus Song by Charlotte Diamond
Let's Go Swimming/The Goldfish by Laurie Berkner
Baby Shark
Baby Beluga

Books:
Go to your local library and check out all the ocean books they have. The top six were definitely our favorites, but it was hard to choose!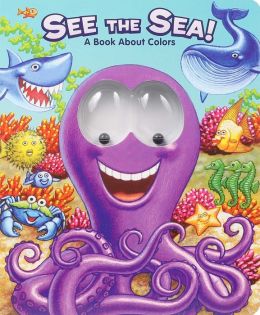 Movies:
We watched my favorite, Finding Nemo! The Little Mermaid, Shark Tale, and Planet Earth would also be good ones :)